Connect with your spirit baby before you conceive or adopt, connect with your future self as a mom, clear your ovaries, womb and more, clear ancestral karma, and more.
The meditations on this album are living transmissions that will meet you where you are and help you prepare to be a mom and receive a child into your family. You can connect for the first time or form a deeper bond with the souls you are here to sponsor as a mom.
This album is self-study, designed to support you on your self-guided path to motherhood. You'll download the album as a .zip to your computer, and then add the mp3s to your phone. Alternatively, you may stream these meditations from Alaya's member's area.
Enjoy!
Experiencing the journey, I felt such an overwhelming sense of wonder and gratitude that we are here at this time – welcoming these beings – in a time of readiness. We are ready, these new beings are ready, the planet is ready, humanity is ready. As I take this all in, the wave, the sense of beauty and wonder and gratitude is so strong. I am just in awe – and so grateful that I chose to join with all of you on this journey at this time! Love and namaste to all! 💜
Buy both albums now and get the 2 bonus audios and the zoom video recordings or
join us live

before December 19th 2021!
Now sold only as a set with Connect with My Baby. Trust me. You want all of this plus the class recordings and the bonus audios.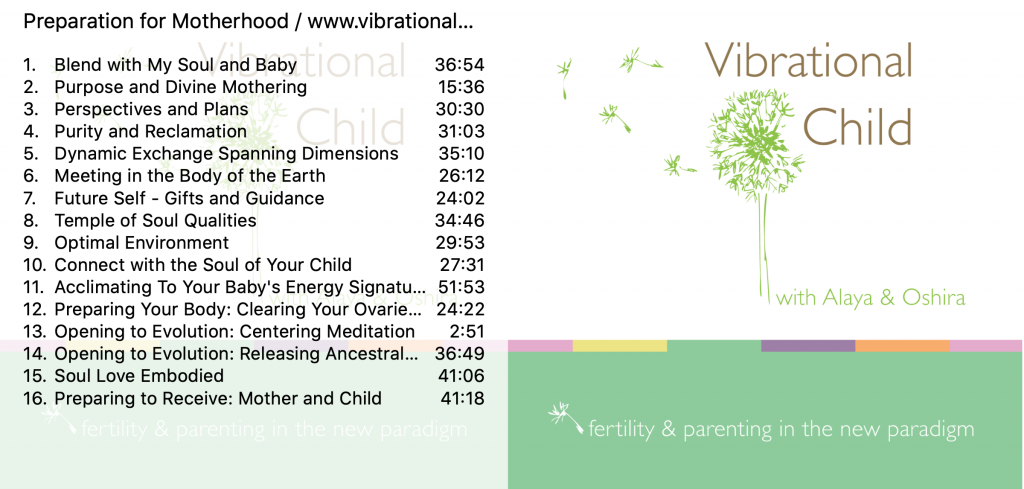 I loved doing this journey as a class too. I wasn't able to be live for the zoom meeting, but watched it this morning and definitely felt the energy so strong. In the beginning I was feeling very grounded, like I was getting tucked into the earth's soil like a blanket. It was slowly calming down my mind which was going so fast. Once I was calm enough I started to feel a lot of sadness and doubt. Doubt that I will ever be able to get pregnant on my own. I couldn't feel my baby beings in this journey. It moved a lot of emotions for me, and after the second journey we did I felt much better.

felt connected to some clear gentle flowing stream that allowed us to move and play and do flips together. Baby splashing in water with me – also kicking in my belly. Clear refreshing hopeful

I drove into work thinking about how my first instinct to join Vibrational Child was based on the fact that had a strong sense that I was carrying things from my ancestors and my childhood that I no longer needed to survive or pass along anymore. I LOVED the messaging and coaching in this about how we choose to come here to learn …

read all experiences or post your own from this album. We are in process listening together and this will be filling in this fall!
Buy both albums now and get the 2 bonus audios and the zoom video recordings or
join us live

before December 19th 2021!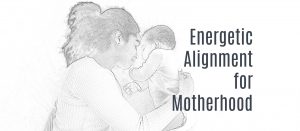 If you aren't sure, please read about what students are experiencing. I think you'll know one way or another after a little bit of poking around. There are discussions and posts for nearly all of the meditation journeys in both albums.
I've done this journey before and loved it, but coming here today really grabbed me. I went in deep! Felt like I was hearing it again for the first time. the freshness! Sourcing deeply from this fresh purity. Untainted, untroubled by the stories of what has come before – I felt doors opening inside me, clean air and water coming through them where I needed it most. Such a free feeling. This freedom strengthening my light. My light pulsing through the storm – powerful and beautiful – something I want to keep practicing. So grateful I have this to retrain with. And then circling back to trusting my path. Love this so much. ~E
What a powerful journey for me! The theme here for me was healing our life's trauma. Remembering the truth of who we are versus the lies we were programmed to believe. Clearing away the debris of the past generations to give you and your children a brand new experience. I felt so much activation of energy and found myself wanting to say AMEN and HALLELUJAH! This speaks to me so much because it's my soul's purpose and life's work here on this planet not only as a mother but in my career. It breaks my heart that people are carrying around this baggage not knowing there's a way to release it and be free. ~L
I love this journey. Being with my guides and feeling so much love and support is just what I need to remember when the stress and anxiety of daily life creep in. I connected with my baby who I am currently pregnant with. I am still working on getting to know him. His "sister/guide," is who was initially showing up and very direct about who she is and what she needs but, he is more shy and/or easy going. He is responsive to the images I send him of the love and support he will receive from my husband and I. I literally smiled so many times in this journey just thinking about showering him with loving touch and words. He was receptive to this so it is what I plan to keep giving him to help him feel safe and connected. He can answer me when he's ready and the part of my that starts to worry will continue to take a back seat and realize perhaps he's a "slow to warm," temperament 🙂 ~L