Connect with your spirit baby before you conceive or adopt, upgrade mitochondria, embrace the physical realities of being human–the beauty and the mess of it all, and more.
The meditations on this album are living transmissions that will meet you where you are and help you prepare to be a mom and receive a child into your family. You can connect for the first time or form a deeper bond with the souls you are here to sponsor as a mom.
This album is self-study, designed to support you on your self-guided path to motherhood. You'll download the album as a .zip to your computer, and then add the mp3s to your phone. Alternatively, you may stream these meditations from Alaya's member's area.
Enjoy!
WHOA so powerful and what I really needed today (9/26) decided to sit up for this one which is unusual because I always want to lay down. Felt so much energy and power swirling in my pelvic bowl and so connected to the earth. This feeling of support and empowerment allowed me to feel so strong in my pelvis and give me courage for birth. Also felt energy swirling around baby in womb and him moving in the optimal position and visualizing an easy delivery out and connected to the earth – trees and moss supporting us – colors and swirling energy

Then the gifts were also so powerful – when I asked what he needed it was that I needed to keep loving myself more – that this was the pathway to deepen our connection. So powerful and selfless. And so my gift to him was a promise that I will always keep coming back to working on loving myself – so our connection can be strong – important because I feel in my own life this wasn't always modeled for me. And my gift was a white feather to him. Then his gift to me he said was JOY. That he will give me so much joy. ~L in Hamburg
The start of the journey said a guide or guides were there to hold your womb space(?) and I could immediately see two female guides with their hands over the area. Something was mentioned about supporting the sacrum and releasing whatever no longer serves you (something like that) and it was like a plug had been released at my cervix and I could see red and orange liquid light pouring out from my ovaries, Fallopian tubes and uterus. I could also see one of the guides pulling out what seemed to be a ball and chain from my left ovary. This was cool to me because I have seen in previous journeys my left ovary as dark with little circulation. I reached a new level of feeling grounded and supported in receiving all the energy available to receive. I think that …(read more) ~E in Canada
I was able to connect with the two baby beings that have showed up for me many times. They didn't have anything specific this time to tell me other than to keep doing what I'm doing and that they are proud of the work I've done and love me. I felt some tears and tingling sensations. The gift I gave them were small pink hearts made of rose quartz – I placed them on a string so they could wear them and remember I am with them and ready when they are to connect. They both turned around giggling and gave me a big red heart – a paper heart folded in half like a child's art protect in Kindergarten. It said we love you and we will see you soon! We hugged and snuggled. This was an amazing experience. This was the most blended I felt with these baby beings and I have been doing these meditations for almost two years! *The next day following this meditation I received my first ever positive pregnancy test after 4.5 years of infertility! I am hopeful the time is right for both the baby beings and me and my husband 🙂 We shall see! ~L in California
Work at your own pace and read how it is for others who are working through this self-study album.
This is now only sold as a set with Preparation for Motherhood. It's powerful and awesome.
Buy both albums now and get the 2 bonus audios and the zoom video recordings or
join us live

before December 19th 2021!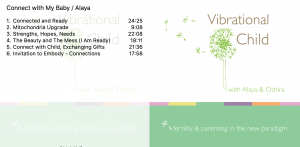 I loved this one. I heard my baby girl say, "I'm here mommy!" then my little boy chimed in and said, "I'm next!" ~M in California
This journey is so beautiful, reassuring, a warm welcome, gentle expansion, so loving, pristine!

"There's only I Am Ready for what's mine, for my next piece. I open my heart and my mind. I am safe. I am ready." "There's no rush, there's just a simple allowing of being. And that's true for you, It's true of your children, It's true of your partner." ~F in NY
This was the perfect journey for me to open up to receiving what my family needs in regards to having a third child.

I could easily and clearly feel that blending and bliss of feeling my child in the womb and that indescribable bliss of holding your newborn immediately after birth.

Then my two current children were there as well, long before the meditation suggested bringing them in, and it was great to feel the blending of all three children.

Overall, I feel much less resistant and so much more relaxed and ready, knowing that a path is clearing and opening and I am releasing the obstacles in my way. ~ C
What I could remember and what struck me, was seeing my ancestors close and around me. We were the same size and were shaking hands and embracing each other. I felt as though I am making amends, forgiving and appreciating their support and what they have done for me and what they are providing. I also saw strands of DNA with yellow areas that I interpreted as being healed, restored and soothed. Then I fell asleep. ~ E in Canada
Game changer. Felt a lot of layers of healing rippling out through myself in different situations and time periods and through the larger community of women. I loved feeling the relief of the coming generations and getting a sense for the shift in evolution that is happening. ~ E in California
read all of the shared experiences here.
When you purchase Connect with My Baby + Preparation for Motherhood, you will have access to live videos of a small group of women going through the albums together with Alaya. The transmissions are stronger when we do them together, and you will benefit from experiences shared and Alaya's comments on the video. If you purchase both albums before December 19th, you can join us live. We are meeting every Sunday this fall until Dec 19th on Zoom.
Buy both albums now and get the 2 bonus audios and the zoom video recordings or join us live before December 19th 2021!